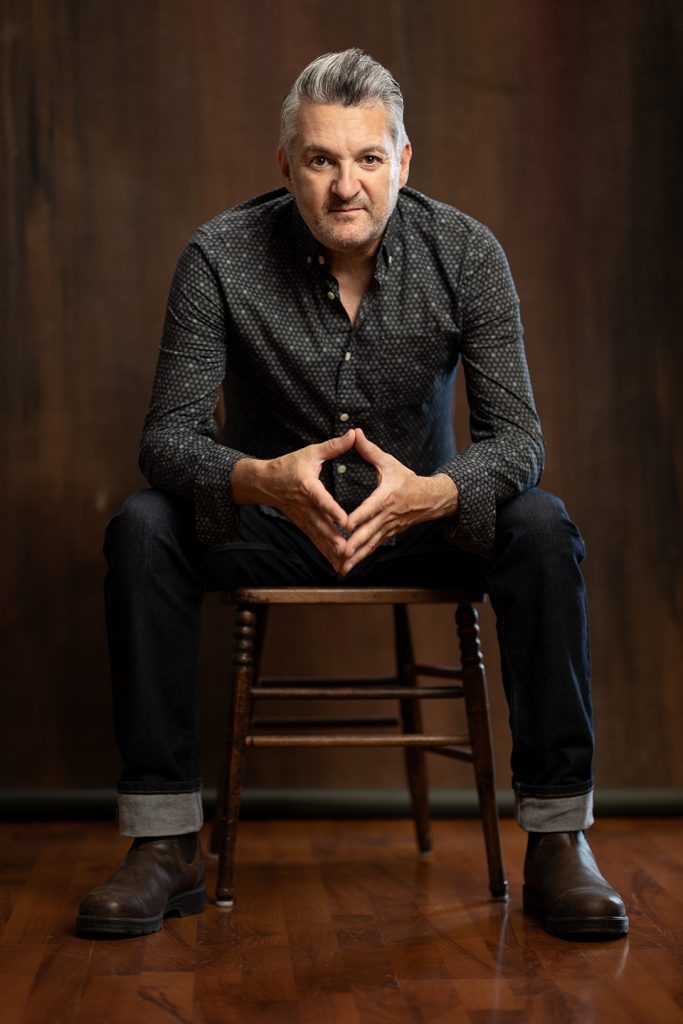 A recording artist, a high-grade Aikido teacher, and a psychotherapist walk into a bar. No, this is not the setup to a punchline. Nor is it the meeting of a secret club. These are the singular accomplishments of singer-songwriter Myk Gordon.
Myk Gordon has won wide acclaim in a career spanning more than three decades. Born To Be is Gordon's forthcoming album and second collaboration with multiple Grammy Award-winner Steve Berlin of Los Lobos (who's efforts helped them take home the 2022 Grammy award for Best Americana Album). Gordon and Berlin's previous collaboration Set Free (2009) received unanimous accolades, with Gordon being praised as "a poster child of the Americana genre" (Alternate Root magazine) and "nothing short of a country-soul tour de force" (Vancouver Sun).
Born To Be was recorded in Portland, Oregon at the studio of indie hitmakers Modest Mouse, and features members of Neko Case, New Pornographers, NRBQ and Mavis Staples. With Born To Be Gordon is once again poised to turn the world on its ear with a strikingly eclectic and polished set of new material with musical references ranging from early Elvis Costello to Crowded House.

Gordon's songwriting mastery is reflected in his other impressive life achievements and pursuits. In the course of his music career, he has attained two graduate degrees (a masters in psychology in 2008, and a PhD in 2019), works as a psychotherapist in private practice, is a 6th dan Aikido teacher with over 30 years' experience and an internationally recognized author and scholar.
Gordon has appeared on concert stages and festivals across the globe, with extended residencies in London UK, Nashville, and Toronto. He comes from musical heritage–his aunt was a child prodigy concert pianist who obtained her teaching degree at the age of 13, his father played upright bass and once sat in with jazz legend Dave Brubeck, and his sister is also a career musician. Gordon spent his formative years on stage with the likes of respected singer-songwriter Ron Sexsmith on the Queen Street scene in Toronto, soon branching out to cross-Canada and international tours and festivals, developing a loyal fan base, rave press reviews and airplay. In 2010 Gordon was granted the highest-level US touring visa, which took him across the country for three years.
---
2009 Set Free
SONGWRITER MYK GORDON AND STEVE BERLIN PRODUCE MAGIC
There are moments in the making of certain albums where everyone in the room knows they have just experienced something transcendent. Welcome to Myk Gordon's new album, SET FREE.
For singer-songwriter Myk Gordon and veteran and multiple Grammy-winning producer Steve Berlin of Los Lobos the magic in their recent musical collaboration is the result of a winning combination of stellar songwriting, unbeatable supporting talent, and irrepressible vision. The resulting work is a contemporary and complex alchemy of rhythm and blues, soul, and country elements, delivered in a thoughtful package of introspective storytelling.
"The whole project has been amazing,"€says Berlin. "It's certainly been one of the best I can remember, in terms of everyone coming together, capturing the moment, getting great performances quickly. Everyone brought their A game to the process. Right from the very first moment it was magical. I couldn't be happier with every single aspect of the whole deal."
In an abandoned Masonic temple in North Portland, Gordon, Berlin, engineer/bassist Jim Brunberg (Box Set), guitarist Paul Rigby (Neko Case, Calexico, New Pornographers, Jakob Dylan) and pedal steel player Jon Rauhouse, and drummer Drew Shoals (Train) put their considerable creative prowess to work on 10 tracks for Myk's newest album, SET FREE. What emerged, is a modern album imbued with the ethereal, timeless and haunting beauty of the aging and mysterious building itself. Berlin, the multiple Grammy-winning producer and sax/keyboard player in Los Lobos, chose from 40 of Myk's original songs to help shape an album whose strong appeal lies in its lyrical vulnerability, moody sensuality and groove-laden sounds.
It is no small feat attracting a sought-after producer of Berlin's caliber, the credit for which goes to Gordon's tightly crafted song structures and hypnotic melodies. The band and ensuing performances and recording came and went from the historic building like a pack of hungry ghosts, leaving echoes of love, loss and inner reflection like a soulful cry in the darkness.
Gordon, who hails from Vancouver, B.C., has built an enviable reputation over a career spanning three decades for having "a steady hand when mixing pop, folk, emotion and intelligence"(Toronto Star). He is an "accomplished performer" (TimeOut, London) and has shared stages with artists including Emmylou Harris, Ron Sexsmith and Joan Osborne.