Myk has been selected for a SOCAN-sponsored (Canada's performing rights organization) showcase in Nashville in February
SOCAN has partnered with The Billy Block Show to provide members with an opportunity to showcase their songs before a live audience in Nashville, and have the performance broadcast throughout the U.S.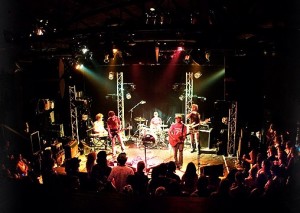 The Billy Block Show is a popular live music concert series held every Tuesday night at the 12th And Porter nightclub on historic Lower Broadway in Nashville. It's also a successful weekly radio show. Each week, the concert series is broadcast on the city's No. 1 country music station, 103 WKDF, in syndicated markets across the U.S. on radio, and worldwide on the Internet. Over the last 13 years, the show has produced more than 600 live concert broadcasts, showcasing more than 3,000 local, regional, national and international artists.
Myk has just released SET FREE, a new album produced by Grammy & Juno winner Steve Berlin (Los Lobos, Tragically Hip), and featuring members of Grammy-nominated Neko Case, Calexico and The New Pornographers. Myk and his band will be on tour this coming summer, across the North-Western U.S.A.
Related show